Friends of the Rio de Flag
Promoting the Rio de Flag's natural stream system as a unique and valuable natural resource, an asset, and amenity to the City of Flagstaff and the surrounding community. The goal of FoRio is to protect, restore, clean up and improve the Rio de Flag and its tributaries to maximize their aesthetic, educational, recreational, and natural resource values, including the riparian habitats* they provide.
---
Public Meeting
* Thurs, March 6, 6:30 pm at City Hall *
Water Works Part IV
Flagstaff Water Quality Panel
with Kevin Burke, Abe Springer, Cathy Propper, Brad Hill, and Corky Kladnik - moderated by Bryan Bates
A-plus wastewater flows in the Rio de Flag during the winter (view from I-40 bridge)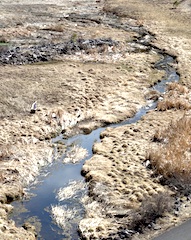 For the fourth and final event in the Water Works series, a panel of water experts and local officials will share their knowledge and perspectives on the quality of Flagstaff's water supply.
The City of Flagstaff is held to federal standards for the quality of its drinking water and monitors for chemicals that are considered hazardous when consumed in large quantities.
Flagstaff's A-plus "purple pipe" recycled water, which accounts for 20% of the community's water use, requires less treatment than drinking water. It is used year-round in local manufacturing and is in heavy demand for irrigation during the summer months.
There is less demand for recycled water during the winter, when two-thirds of the discharge from the Rio de Flag Wastewater Treatment Plant flows into the Rio. Some of this water eventually finds its way into groundwater that supplies some of the city's drinking water wells.
Although not required to do so, the city tests its drinking water for unregulated contaminants such as pharmaceuticals and hormones, some of which have been shown to alter growth patterns in amphibians. Small traces of some of these contaminants have been found in wells downstream of the treatment plant.
Flagstaff City Manager Kevin Burke, who will be on the March 6 panel, in 2012 created an advisory panel specifically charged with looking at the impacts on human health of unregulated contaminants, including those that have been detected in Flagstaff's downstream wells.
The panel's interim report, released in 2013, recommended that the city consider additional treatment to its drinking water that would go much further in removing contaminants now found in levels of parts per billion and even parts per trillion.
Also appearing on the March 6 public panel will be:
Brad Hill, city of Flagstaff Utilities Director, who gave an excellent introduction to the top ic of water quality in his Water Works, Part 3 presentation (see below for link);
Abe Springer, professor of hydrogeology at NAU, who studies local and regional groundwater flow systems and human impacts on them;
Cathy Propper, professor of biology at NAU, and an expert in how environmental contaminants may act as endocrine disruptors to affect development and adult physiological function; and
Corky Kladnik - an expert on water treatment technologies, especially forward and reverse osmosis, and a member of the Friends of Flagstaff's Future Water Quality Action Team.
The panel discussion will be moderated by Bryan Bates, professor of environmental sciences at Coconino Community College.
Many thanks to Friends of Flagstaff's Future for co-sponsoring this important event!
---
View presentations from Water Works Part I ("Origins"), Part II ("Our Water Future"), and Part III ("Water Reuse").
---
$90 million for what?
Arizona Daily Sun • March 31, 2013 • by Joe Ferguson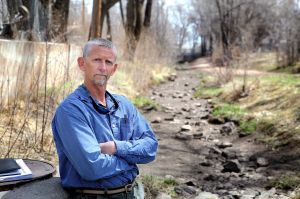 Project Manager James Duval stands in a section of the Rio de Flag between Cherry and Dale avenues. (Jake Bacon/Arizona Daily Sun)
The redevelopment of much of Flagstaff's Southside depends not so much on what happens above ground but underneath it.
A series of massive, underground tunnels are planned to funnel millions of gallons of water from the Rio de Flag away from the city's oldest neighborhood in the event of a 100-year flood. Southside residents call the $92 million flood control project a godsend, even if completion is still decades away.
Some officials in Washington, D.C., however, have a different label, calling it "one of the most screwed-up projects in the country."
Some local leaders also are frustrated with the delays and cost overruns.
"Forty million dollars has been spent on a project originally estimated at $25 million, and we have little more than a $6 million dam with a crack in it," said Flagstaff City Councilmember Jeff Oravits. (read more...)
---
---
Where is the Rio de Flag anyway? Click here to see a 3D image of the Rio watershed.
*Riparian habitats are water-dependent ecosystems characterized by rich and diverse groups of plants and animals. A vanishingly rare community resource for Flagstaff, riparian ecosystems play a key role in reducing flood peaks, enhancing water quality and groundwater replenishment, as well as providing wildlife habitat, open space and recreational opportunities.
---
Home | About Us | Calendar | News | Resources | Contact Us | Join