Friends of the Rio de Flag
Promoting the Rio de Flag's natural stream system as a unique and valuable natural resource, an asset, and amenity to the City of Flagstaff and the surrounding community. The goal of FoRio is to protect, restore, clean up and improve the Rio de Flag and its tributaries to maximize their aesthetic, educational, recreational, and natural resource values, including the riparian habitats* they provide.
---
Thursday, October 16, 2014 Friends of the Rio Special Event
5:30 pm at Federated Community Church
400 W. Aspen Ave, Flagstaff
A Conversation with David Coss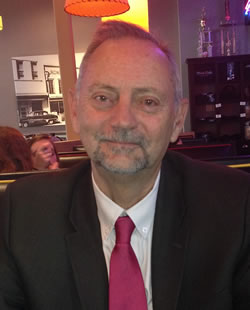 Former Santa Fe Mayor David Coss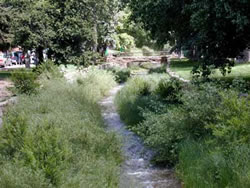 Recently retired Santa Fe, New Mexico Mayor David Coss counts as one of his proudest accomplishments bringing new life to the Santa Fe River. Quoted in the Santa Fe New Mexican, Coss said, "We still have a long way to go. We have climate change making everything more difficult and complicated, but I can tell that this town is going to bring back the river...It's fun for me to see kids playing in the river. It's fun to see baby strollers being pushed up and down the river trail, and I live right by it so I get to enjoy it for the rest of my life."
Friends of the Rio has arranged for an exclusive conversation with the former mayor on Thursday, October 16th at 5:30 at Federated Community Church. Coss will be the keynote speaker at the 3rd Annual Flagstaff Regional Open Space Symposium at the Museum of Northern Arizona on Friday the 17th.
Coss's quest to bring back the Santa Fe River began more than a decade before his eight years as mayor. He was instrumental in drafting the Santa Fe River Corridor Plan that became a blueprint for the development of a riparian greenway of natural areas, trails and parks. His expertise and interest in the natural world is attested to by his bachelor's degree in wildlife science from New Mexico State University and a master's degree in zoology from Southern Illinois University.
Besides friends in high places, the Santa Fe River is advocated for by an organization similar to Friends of the Rio de Flag, the Santa Fe Watershed Association, We hope to find out in our conversation with the Mayor how various community partners worked together to find the funding to accomplish their goals.
---
The 3rd Annual Flagstaff Regional Open Space Symposium on Friday, October 17 at the Museum of Northern Arizona will focus on visioning a future for the Rio de Flag. Lunch is included and seating is limited, so registration is required.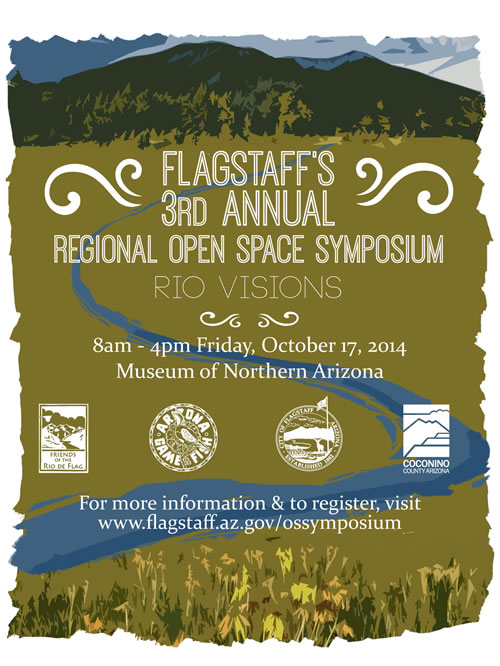 ---
$90 million for what?
Arizona Daily Sun • March 31, 2013 • by Joe Ferguson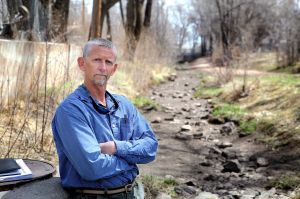 Project Manager James Duval stands in a section of the Rio de Flag between Cherry and Dale avenues. (Jake Bacon/Arizona Daily Sun)
The redevelopment of much of Flagstaff's Southside depends not so much on what happens above ground but underneath it.
A series of massive, underground tunnels are planned to funnel millions of gallons of water from the Rio de Flag away from the city's oldest neighborhood in the event of a 100-year flood. Southside residents call the $92 million flood control project a godsend, even if completion is still decades away.
Some officials in Washington, D.C., however, have a different label, calling it "one of the most screwed-up projects in the country."
Some local leaders also are frustrated with the delays and cost overruns.
"Forty million dollars has been spent on a project originally estimated at $25 million, and we have little more than a $6 million dam with a crack in it," said Flagstaff City Councilmember Jeff Oravits. (read more...)
---
For a more recent perspective on the failure of the Army Corp of Engineers to make progress on the Rio de Flag flood control project, read Senator John McCain's May 22, 2014 statement on the Water Resources Reform and Redevelopment Act (WRRDA) Conference Agreement, H.R. 3080.
---
---
Where is the Rio de Flag anyway? Click here to see a 3D image of the Rio watershed.
*Riparian habitats are water-dependent ecosystems characterized by rich and diverse groups of plants and animals. A vanishingly rare community resource for Flagstaff, riparian ecosystems play a key role in reducing flood peaks, enhancing water quality and groundwater replenishment, as well as providing wildlife habitat, open space and recreational opportunities.
---
Home | About Us | Calendar | News | Resources | Contact Us | Join