Friends of the Rio de Flag
Promoting the Rio de Flag's natural stream system as a unique and valuable natural resource, an asset, and amenity to the City of Flagstaff and the surrounding community. The goal of FoRio is to protect, restore, clean up and improve the Rio de Flag and its tributaries to maximize their aesthetic, educational, recreational, and natural resource values, including the riparian habitats* they provide.
---
Thursday, May 1, 2014 Public Meeting
6:00 pm at the Joseph C. Montoya Community Center
245 N. Thorpe Park Rd., Flagstaff
Water Works Part 5
A Vision for Flagstaff's Water Future
with George "Corky" Kladnik
HTI's OsMBR technology effectively eliminates contaminants from recycled wastewater.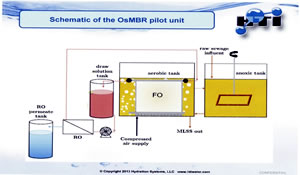 During our Water Works Part 4 panel discussion on water quality in March, technical consultant and water treatment expert Corky Kladnik made the case that conservation and recovery of potable water from Flagstaff's wastewaters will be necessary if we are to have a reliable, safe, long-term supply of fresh water.
Corky is a co-author of "Water, an Essential Resource," a white paper prepared for the City and the public by Friends of Flagstaff's Future's Technical Water Committee.
The white paper states that not only will we need more potable water in the future, but we will also need to stop releasing reclaimed water into the Rio de Flag that contains unregulated contaminants. These are already being detected in trace amounts in the City's aquifer, its primary water supply. Corky's vision for Flagstaff's water future includes new technologies for wastewater recovery that eliminate these pollutants from our reclaimed water.
Corky will also describe new sludge treatment technology with valuable safe by-product recovery, necessary to destroy the hazardous chemicals removed from the wastewater at the City's two wastewater treatment facilities.
The costs and benefits of both of these technologies will be compared to the development of new fresh water resources. 
Also on the program, our NAU intern, Alex Garcia, will present the results of her research on the effectiveness of FoRio's outreach efforts.
This meeting is co-sponsored by Friends of Flagstaff's Future.
---

---
$90 million for what?
Arizona Daily Sun • March 31, 2013 • by Joe Ferguson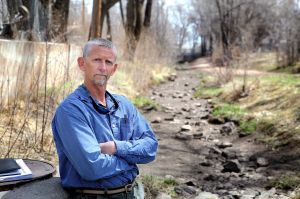 Project Manager James Duval stands in a section of the Rio de Flag between Cherry and Dale avenues. (Jake Bacon/Arizona Daily Sun)
The redevelopment of much of Flagstaff's Southside depends not so much on what happens above ground but underneath it.
A series of massive, underground tunnels are planned to funnel millions of gallons of water from the Rio de Flag away from the city's oldest neighborhood in the event of a 100-year flood. Southside residents call the $92 million flood control project a godsend, even if completion is still decades away.
Some officials in Washington, D.C., however, have a different label, calling it "one of the most screwed-up projects in the country."
Some local leaders also are frustrated with the delays and cost overruns.
"Forty million dollars has been spent on a project originally estimated at $25 million, and we have little more than a $6 million dam with a crack in it," said Flagstaff City Councilmember Jeff Oravits. (read more...)
---
---
Where is the Rio de Flag anyway? Click here to see a 3D image of the Rio watershed.
*Riparian habitats are water-dependent ecosystems characterized by rich and diverse groups of plants and animals. A vanishingly rare community resource for Flagstaff, riparian ecosystems play a key role in reducing flood peaks, enhancing water quality and groundwater replenishment, as well as providing wildlife habitat, open space and recreational opportunities.
---
Home | About Us | Calendar | News | Resources | Contact Us | Join