Daily Archives:
April 28, 2016
Join the Friends of the Rio de Flag in cleanup and restoration efforts this Saturday, April 30th!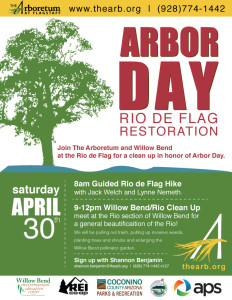 How I Came to Love Engineers 
 Allen Haden, Aquatic Ecologist and Project Manager,
Natural Channel Designs, Inc.
Thursday, May 5th, 6:00pm
Montoya Community Center
Predicting stream morphology allows us to assess and restore streams and ecological function. Please join us Thursday, May 5th, for a presentation by Allen Haden, who will give a brief primer on how we can predict stream morphology.
Allen is an aquatic ecologist with Natural Channel Designs, Inc. and has broad experience with aquatic habitats and stream systems in the arid Southwest.
We look forward to seeing you next Thursday, May 5th at 6:00PM at the Montoya Community Center. Enjoy the spring storms ahead of us this weekend!