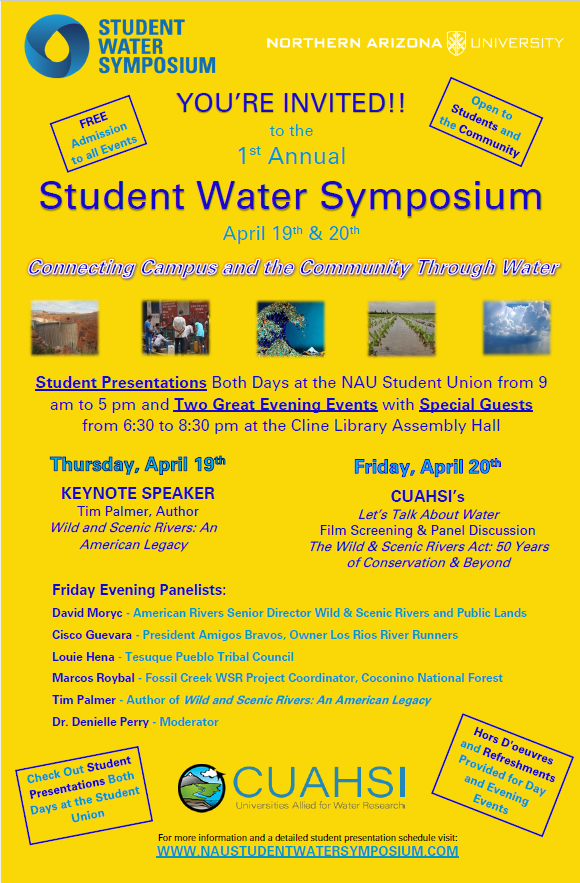 You are invited to Northern Arizona University's First Annual Student Water Symposium on April 19th-20th. The event offers both graduate and undergraduate students at NAU an opportunity to present water-related research and collaborate across disciplines, shaping them as the next generation of water policy-makers, managers, and stewards.
Moreover, the symposium acts as a venue to connect campus and the greater Flagstaff community through water by offering two evening events centered around the theme: The Wild & Scenic Rivers Act: 50 Years of Conservation & Beyond.
Thursday evening features a talk and presentation by special guest, Tim Palmer, author of Wild and Scenic Rivers: An American Legacy. Friday evening presents a screening of three short films by American Rivers followed by a panel discussion with river conservation professionals.
Both evening events are free admission to the public and promise to enlighten and inspire the audience.
Please visit their website www.naustudentwatersymposium.com details regarding evening events, a detailed list of featured panelists, and the student presentation schedule.
Hors d'oeuvres will be available at all events.
###