Sunday Feb 2, 2020  at 2pm
I-40 Wetlands along the Rio de Flag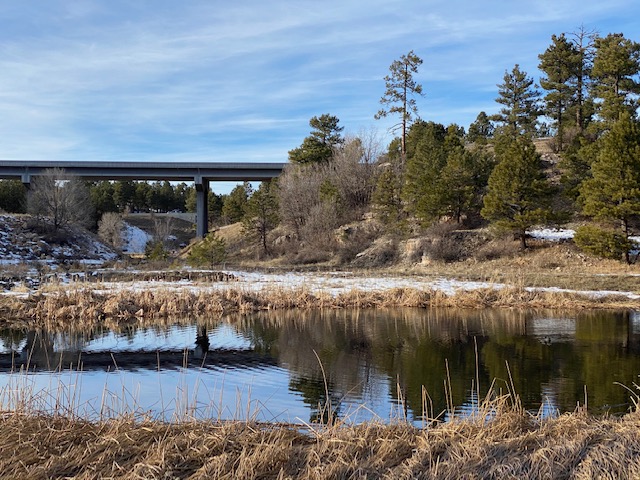 Meet at the southwest corner of Sam's Club parking lot at 2 pm and be prepared for icy and muddy conditions.  Local habitat professionals are leading the walk to answer your questions about the site.   Note that it is also groundhog day, so keep your eyes open for the elusive (and probably unwilling to look for shadows in February) prairie dog.
Help us celebrate the biodiversity of wetlands in Flagstaff along the Rio de Flag.   The Rio supports several named wetlands, including the Cheshire Wetlands, Picture Canyon areas, and the I-40 Wetlands.  These important habitats are great for watching wildlife and boast some of the best birding around Flagstaff.  Join us for a walk on February 2 to the I-40 Wetlands to explore the habitat in winter
Wetlands are vital for human survival. They are among the world's most productive environments; cradles of biological diversity that provide the water and productivity upon which countless species of plants and animals depend for survival. The Convention on Wetlands, the only global treaty to focus on a single ecosystem was signed in Ramsar, Iran in 1971with 171 member states, including the United States.   For more information on the Ramsar Convention check out the website  https://www.ramsar.org/
This year the theme for World Wetlands Day is Wetland Biodiversity Matters.  Biodiversity rates are in steep decline worldwide, and wetland species are the most at risk.  In less than 50 years, between 1097 and 2014 populations of fish, amphibians, birds and reptiles have declined by 60 %.  This is especially alarming in Arizona where less than 10% of original riparian habitats remain.
Come and explore one of those critical habitats with us on 2/2/2020 at 2pm, and be prepared for Flagstaff's variable weather in Feburary – muddy and icy conditions are probable.  Sturdy shoes, warm clothes and hiking poles are not out of line!